Upcoming Shows
September 2, Ottawa On, Mavericks
September 28, Ottawa On, Mavericks
October 27, Ottawa On, Cafe Dekcuf

November 17, Trois Rivieres Qc, Rock cafe le Stage
2019

June 29, Toronto On
Lycanthro are a 4 piece Power/Thrash metal band formed in April 2014 from Ottawa Ontario Canada. They combine Power, Thrash and Speed metal along with a theatrical stage show and lyrical themes and imagery based on classic horror and mythology. In January 2017, Lycanthro released their debut self-titled EP where their shredding guitar solos howling high pitched screams cut through the mix and the echo of the drums and the metallic bass tone add the ground work to their powerful sound. Lycanthro will continue to howl into the night and into the future because in metal we trust!
Reviews
"Lycanthro are definitely a band I'd recommend for anyone into traditional, classic heavy/power metal" Wonderbox Metal
"taking some classic influences and intertwining them into a potent, headbanging outfit. International attention and accolades aren't far behind as these members grow"
"These guys write some amazing riffs, better than many with decades more experience" -Decibel Geek
"Lycanthro are something else, simply put. They are an ambitious group of guys and you can see the talent and passion through their playing" Going A-Wall!
"Canadian heavy metallers Lycanthro have come together to forge one of the most appealing and intriguing love-letters to the classic metal sound of the 80s with a strong classy-sounding release." Dons Metal Reviews
"a Harken back to the old school!" -Joe Comeua (Liege Lord, ex Overkill, ex Annihilator)
"All the songs on this disc have well thought-out compositions with excellent build ups from the intros to the outros. The songs are top caliber which can compete with any of todays current metat bands' -John Ricci (Exciter)



"Lycanthro are great"-Blaze Bayley (Blaze Bayley, ex Iron Maiden, ex Wolfsbane
video by Montreal Metal Shows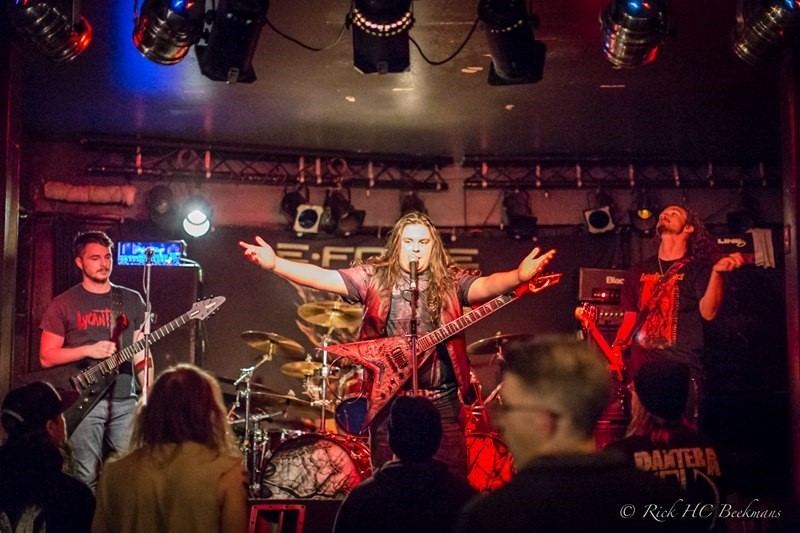 Four Horsemen of the Apocalypse EP